Upcoming
As the company that invented the PDF, Adobe has been deeply invested in innovating PDFs for the needs of modern work. Institutions like yours now expect to edit, share, sign, and track documents from anywhere, on any device. For every one of these steps, Acrobat's got it.
Manage PDFs from anywhere with Adobe Acrobat Pro. Our expert panelist will share how this versatile, all-in-one, and reliable document solution has evolved over the years to support the hybrid era.
Through clear, actionable demos, our expert will cover:
The versatility of being able to edit and collaborate on Acrobat PDFs inside Microsoft 365 apps
How an all-in-one solution allows you to edit, sign, and send PDFs from a single app
The reliability of knowing you can securely manage document workflows from any device
Join us to learn how the new Acrobat Pro can increase your productivity and collaboration — all while simplifying the way you work.
Since Adobe invented the PDF more than 25 years ago, the file format has set the standard for secure, smooth document creation and management. But there's more to this familiar format than many teams are fully utilizing, including dynamic features that optimize and simplify workflows for today's hybrid world.
Our expert panelist will share insights on the evolution of the PDF and provide fresh demos on PDF collaboration, editing, and integrations with Microsoft apps. You'll learn how today's Adobe Acrobat enables you to:
Create, share, and sign PDFs across devices
Enrich collaboration and sharing capabilities across integrated platforms
Standardize PDF creation so that every document is secure
Ensure document compliance with redaction and accessibility tools
This webinar will also feature recent findings from global firm IDC on how business leaders are solving document workflow pain points to drive better business outcomes.
Join us to learn how Acrobat can help you unlock the power of PDFs to succeed in this new environment.
Adobe Acrobat Skill Builder Series
Learn a new skill every month.
Join us for a series of 30-minute Skill Builder webinars to master new PDF workflows. Each expert-led session will teach you some simple techniques for taking your documents digital – and clearing paperwork off your desk.
Want more education webinars?
We offer a wide range of enterprise-oriented Adobe Acrobat Sign and Adobe Acrobat webinars that are applicable to education institutions, too.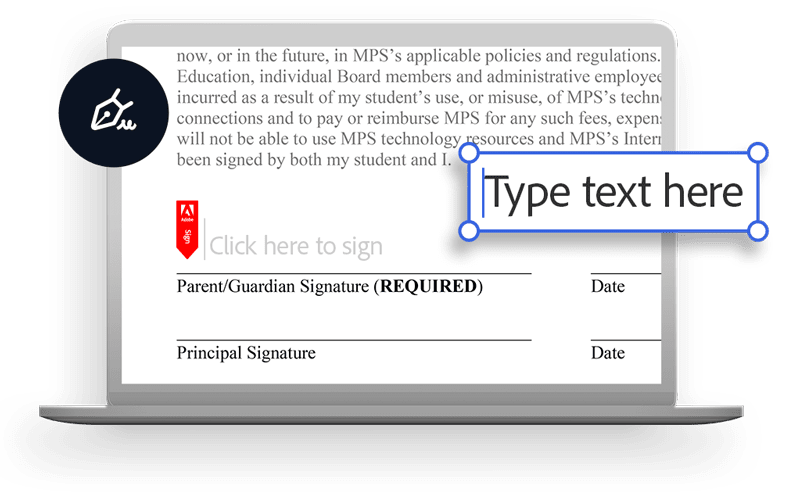 Help your school or institution go paperless today
It's time to say goodbye to paper and all its pain points. It's time to introduce seamless, paperless workflows powered by Adobe Acrobat and Adobe Acrobat Sign that make creating, tracking, and managing document workflows secure and easy.