Discover everything you need to know about digital document management for schools and universities.
Are you grappling with how to manage digital documents in your district or at your university?
Budget restrictions, lack of culture and buy-in, and digital literacy are just some of the obstacles institutional leadership are facing in the journey toward a total digital experience.
Yet, there's hope.
In this guide, we're going to look at the key components to understanding the management process and then becoming a digital document campus, including:
What is digital document management?
Digital document management means converting paper forms and documents to digital ones, automating manual processes and workflows, and moving from wet signatures to e-signatures. Document digitization provides easier access to information, increases operational efficiency and time savings, and provides greater data accuracy.
Why is document management important for education?
Digital document management is important in education because of new operating models, such as hybrid workforces, remote access, and contactless experiences. For these models to be successful, institutions need to provide a seamless digital experience that includes anytime, anywhere access to documents — and the ability to track, manage, store, and keep them secure.
What are the benefits of digital documents?
Managing documents in digital form offers a few key benefits for schools and universities, including:
1. Easier access to information
Once you convert paper documents to digital, you can access them anytime from anywhere. Whether you want to add a fillable form to an existing PDF or collect an e-signature for an add/drop course form, digital documents allow you to continue important workflows no matter where you are in the world. You can even password protect your work for greater security.
2. Increased operational efficiency
Going paperless also means your district or institution becomes more efficient in the way it works with documents. With instant access to digital paperwork, you can easily send and receive information from students, parents, staff, faculty, and administration – without ever leaving your office, whether that's at home or on campus.
3. Increased time savings
When you go digital with your documents, there's less time spent on printing, faxing, signing, and mailing. You can simply share, edit, collaborate, sign, and archive your work in minutes instead of days. With all you need available online, you can use more time for other tasks in your day.
4. Greater data accuracy
Traditional paperwork is prone to errors, such as typos and inaccuracies that can be difficult or time-consuming to correct. Instead of wasting time, digital document management helps you save resources by giving you a fast, easy way to edit your documents on-the-go.
How to Create a Digital Document Management Process
Now that you understand the meaning of digital document management in education, as well as its importance and benefits, it's time to learn how to make your institution paperless.
Here are the steps we recommend for a successful experience:
1. Capture your documents digitally
3. Collaborate with key players
4. Sign your document electronically
6. Search for information instantly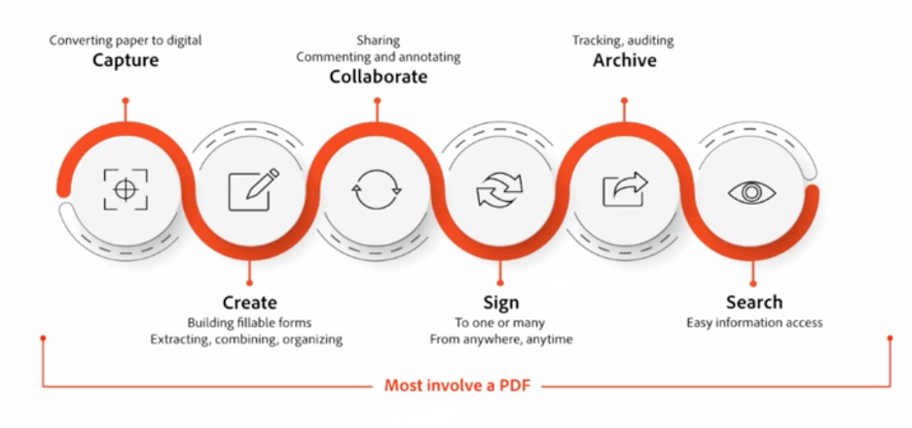 1. Capture your documents digitally
First, you can convert paper forms and docs to digital with tools like Adobe Scan, a simple mobile app to capture content. Whether you have student forms, vendor contracts, or classroom materials, using something like Adobe Scan lets you easily convert paper to a digital PDF or similar format.
2. Create a fully digital doc
Once everything is digitized, your staff and teachers can create documents that are easy to manipulate and edit. They can use PDF tools like Adobe Acrobat to create fillable forms they can send to students, parents, or teachers – whether it's an internal form, something HR-related, or docs for students. Once you have paperwork formatted as a PDF, there's so much more flexibility. You can combine multiple pages, and extract or input data.
3. Collaborate with key players
You can collaborate with others to get the documents finalized. Overall, digital docs are easier to share, comment on, annotate, and get that information over to others. It's all about streamlining the whole process.
4. Sign your document electronically
Once you've digitized, modified, and finalized doc, you can ship docs off to review for signature using tools like Adobe Acrobat Sign. It's much easier for staff to archive, manage, and search for information when it's in digital form rather than sitting in a filing cabinet full of paper.
5. Archive your digital docs
Because all your docs are digital, it's much easier for staff to archive information digitally. You can easily access it when needed.
6. Search for information instantly
Of course, you can also search for information much more easily when it's in digital format. Find what you're looking for by keywords, topics, etc.
Get Started on Your Digital Document Management Strategy
Your digital management strategy will be individual to your school or institution, which means your roadmap will look different than any other district or university.
For help in developing a plan for your district or university, contact the Adobe Acrobat sales team. Or, get a free trial of Acrobat Pro and Acrobat Sign to see what's possible.